Before I purchase my lol boosting I've message the live chat agent to do some questions before purchasing, I was really happy with them answering so fast and being so polite, and always trying to help.
About the boosting order, everything was done flawlessly, after buying the boost I received instantly an email confirming my order and got a new one once my order was assigned to the booster and that I was already able to chat with him on the website.
The booster kept me always updated of all the progress and always trying to give me some tips on my most played champions
ELOBOOSTLEAGUE.COM PROS AND CONS
PROS:
+ Great customer service 244/7
+ Challenger boosters
+ cheaps prices
+ Fast completion of your order
CONS:
– Smal bugs on chat box with the booster
The second League of Legends boosting website was ELO24.
They had a really cool option that you could get a free test game which I think is super cool, but after I messaged live chat support he said the option for the free test game was not available anymore, so yeah I still decided to purchase my boost to test them.
The support was really nice to me and helped me purchasing the correct order.
The only downside of Elo24 is that sometimes their support takes a bit to answer because he is offline, I think they could have more than one support to help customers.
The prices are not high but for the service provided I will choose eloboostleague instead of elo24
ELO24 PROS AND CONS
PROS:
+ Skilled boosters
CONS:
– Sometimes support takes a while to respond or offline
– Booster didn't chatted with me during the process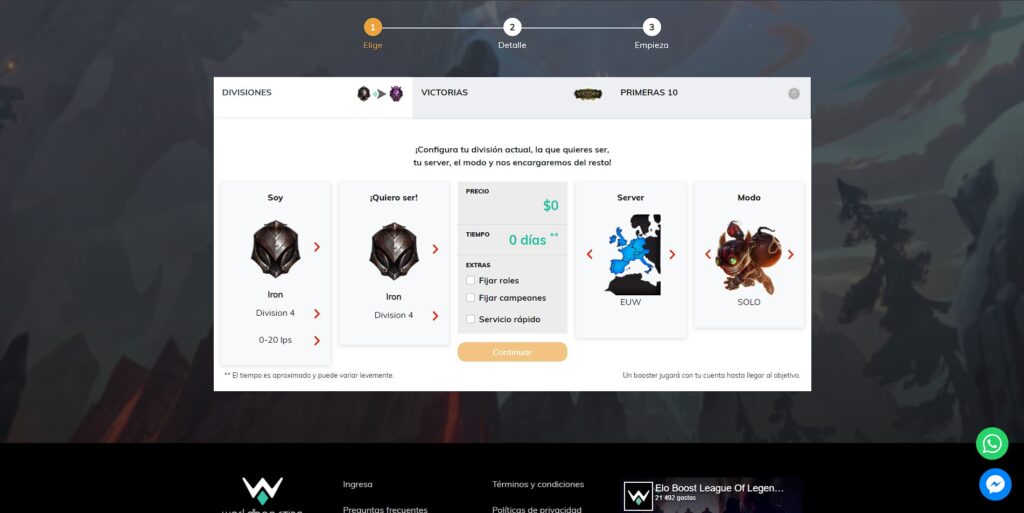 The last boosting website on my list was worldboosting.
I've put worldboosting in the last position because from all the 3 websites I've tested this one was the one I have had the worse experience.
To make your order it's a simple process, but the service provided is not really good, from booster bad performances to customer support ignoring my messages, everything was kinda messy, to be honest
At the final my boosting order was completed but it took forever to have it done.
WOLDBOOSTING PROS AND CONS
PROS:
+ Easy to order
CONS:
– Slow responses timers from support and not up 24/7 as they said
– Low booster performances
– Booster delayed the order
– Support ignored some of my messages